Standard Protective Apron
Cost-efficient yet effective, this classic apron sets the standard for radiation protection. Ideal for environments where hook-and-loop fasteners won't do, the durable 1" straps tie at the waist for a secure fit that reduces fatigue. Chest pocket included and shoulder pads provide additional comfort.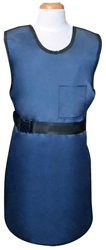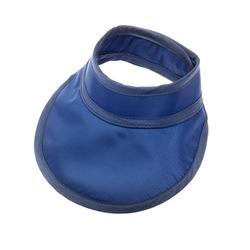 Thyroid Collar with Hook-and-loop Closure
Minimize X-ray exposure of the thyroid gland and neck with a protective Thyroid Collar. This protective Thyroid Collar features secure hook-and-loop fasteners for a snug fit and better radiation protection. Collar Covers are available to keep your thyroid collars clean and sanitary.
Properly shielding the gonadal region is essential for patients of either gender. This Oval Gonad Shield Set contains three sizes of shields—small (4 ½" by 5 ½"), medium (6 ¾" by 8"), and large (7 ¾" by 10")—which are held in place on the body with a hook-and-loop belt. For convenient storage, each shield set includes a wall hanger.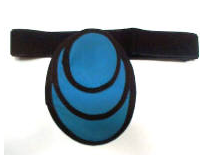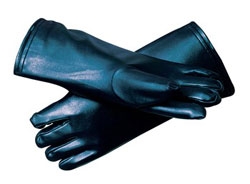 Radiation protection fits like a glove. These vinyl hand coverings are the perfect blend of protection and comfort, covered with a soft urethane material for rugged durability. Slip on the leaded gloves, and your fingers will find a breathable nylon liner that keeps your hands cool during procedures. Latex free. Available as a pair or as left or right styles only and only in color shown. One size fits most.
Protect your eyes—and your prescription eyewear—from exposure and liquid splashes with the Fitovers. With their generous size, shape, and design, anyone can wear them over a pair of prescription lenses. Generous-sized clear side shields protect against lateral radiation exposure and reduce "tunnel vision," which is common with lesser-quality, look-alike fitover frames. Offers .75mm protection for both main lenses and side shields. Weighs 104g.